Relax & recharge your spirits
CLICK HERE FOR AN UPDATE ON THE MOSELEY COTTAGE INN AND MOTEL POLICIES RELATED TO COVID-19
---
Location, Location, Location. We are located right in the heart of downtown Bar Harbor, just off on a quiet side street. Walking distance to all the shops and restaurants. Five minute walk to the shorepath and 5 minute drive to several Park entrances. 5 minutes to the Island Explorer Bus system that covers the island. Our guests love our location. See what they had to say about us on the Today Show!
Moseley Cottage Inn is a small, intimate inn, furnished with antiques and a warm atmosphere. The nine guest rooms, with private baths are comfortably yet tastefully decorated. We have Wi-Fi throughout the property. Guests at the Inn are treated to a full breakfast. Breakfast is not included with the Motel but you are welcome to join us for an additional $15.00 per person and we would need advance notice of a day
In Bar Harbor, Maine Moseley Cottage Bed and Breakfast Inn has welcomed visitors for many years. Built in 1884 this charming Victorian bed and breakfast inn offers a private haven and is nestled on a quiet side street off the beaten path in a lovely setting.
During the summer months when the Island explorer is running our guests can park their car and never drive it again until they head home.
Many of our guests return to us year after year. Families, honeymooning couples and single adventurers feel equally at home in our motel and B&B; we believe this is because we take great effort to ensure that our rooms are clean, relaxed, comfortable and affordable and that our staff is attentive and courteous.
We look forward to making your Maine vacation a memorable time you will want to repeat every year. Come stay with the owners Pam and Scott Allen of Bar Harbor. They look forward to sharing the island with you.

            -The Innkeepers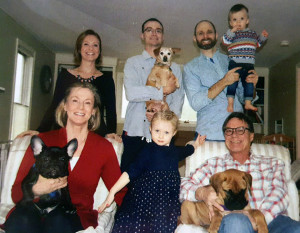 The family 🙂